Message to Shareholders and Investors
Message to Shareholders and Investors
Top Message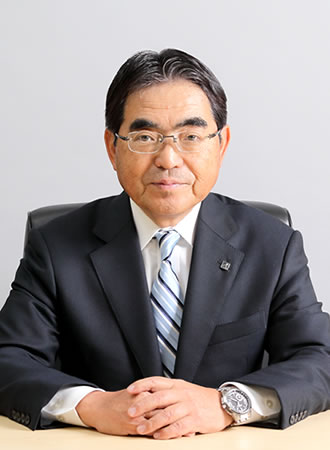 I want to take this opportunity to express my gratitude for our shareholders and investors for the continued support that they have shown us over the years.
My heart goes out to all those who have been affected by COVID-19 and I hope that the pandemic ends at the earliest possible stage. Moreover, I would like to express my deepest respect and appreciation for medical professionals and those who support society at various locations.
During the 41st fiscal year, the Japanese economy continued to suffer from severe conditions due to the impact of the spread of the COVID-19, such as two declarations of state of emergency and the government's calls for self-restraint on operating activities and the temporary suspension of business, among other factors that significantly undermined consumer and corporate activities.
In the labor market in Japan, movements to suppress hiring activities were seen early in the pandemic, which mainly reflected worsening business performance, but this bottomed out around last fall and began to recover, albeit modestly. However, needs for hiring and sales promotion in restaurant, selling and services businesses continued to fluctuate, resulting in a very challenging year for the Quick Group as it is engaged in human resources and information businesses.
In these circumstances, both revenues and profits declined in the 41st fiscal year compared to the previous year, for the first time since the 30th fiscal year (ended March 31, 2010) when the economy entered recession in the wake of the Global Financial Crisis. Regarding the return of profits to shareholders, the Company decided to pay an annual dividend of 44 yen per share, comprising a common dividend commensurate with business performance and a special dividend commemorating the 40th anniversary of the Company. I would like to take this opportunity to offer my sincere apologies for the concern caused to our shareholders and investors, as both the business performance and dividends fell below the previous year's levels.
For the 42nd fiscal year, with expectations for the gradual containment of the COVID-19 crisis through the effects of vaccinations and associated economic recovery in and outside Japan, the Company will move forward with efforts to develop and invest in new business domains, aiming for growth in each business area. It will also aim to recover business performance by overcoming the coronavirus crisis through the revitalization of business collaboration within the group and the enhancement of human resources cultivation.
Further, the Company made the transition from a company with Board of Corporate Auditors to a company with Audit and Supervisory Committee as of June 22, 2021. Under the new structure, the Company has Directors who are members of Audit and Supervisory Committee holding voting rights on the Board of Directors, in order to enhance the supervisory function of the Board of Directors, thereby further reinforcing corporate governance.
As we pursue these initiatives, I ask for the continued support and encouragement of all of our shareholders and investors.